Af Gunnar Kristiansen, August 2004
Nåede du ikke at opleve den vellykkede clinic med supertrommeslageren Danny Gottlieb i Odense denne sommer, så er her en lille "trøstepremie" i form af et interview vi fik med ham for nyligt…
TS: How did it all start – what made you want to play the drums, and at what age?
DG: I grew up in New Jersey, and my mom played (and still plays, at age of 82) the violin. In the 4th grade (about 9 years old), I went to get an instrument in the elementary school music department, and asked for a violin. They had run out, and I took a cello. I played that until I was age 17. But, there was a good friend of mine in the junior high school band and jazz band that played drums, and I was always fascinated by them. His name was Dave Uhrig, and he showed me how the drums basically worked. When I was 14, I took a summer music school course, and asked if I could have drum lessons as part of the program. I was having trouble counting rhythms, (of all things!) and from the first drum class I was hooked! I got a practice pad, started walking around with it non-stop, as I am still doing today!
TS: Could you tell us about the musical environment you grew up in?
DG: Home environment was very supportive. My mom and Dad always had music around the house, mainly progressive radio programs (this was the '60's). On any given day, there would be Opera (my dad was a huge Opera fan), Jazz, African music, all kinds of things playing. And as far as a career, both of my parents thought being a musician was a wonderful (but difficult) profession. The only request they made was that I finished college. My parents also read alot, and had a alot of insight into many areas. When I told my dad I was interested in jazz drums, he bought me a Max Roach recording, because he had read about Max. Very progressive!
TS: Were you dead serious about practicing from the very beginning, or did it come along?
DG: I was practicing and just having fun playing to records, at first. But when I was 15, I stopped in at a local music store (Dorn and Kirshner, in Union, New Jersey), and the legendary Joe Morello was teaching there (I didn't know who he was, just that he was on the back of the Ludwig catalog). For HIS lessons, I practiced as much as I could. Then when I went to the University of Miami, I practiced and played all the time.
TS: Did you have any specific styles that you would listen to?
DG: My first music teacher – still a good friend and influence today – Mr. (Morty) Geist would play lots of jazz recordings after school. We heard Basie, Miles, Monk, Buddy Rich, Stan Getz, etc. I lived for those recordings, and it made school (with Mr. Geist, anyway) an important developmental step, and also provided insight into how much fun music can be. Also – studying with Joe Morello, a legendary professional, immediately thrust me into a high level professional world. Joe himself studied with "Stick Control" author George Lawrence Stone, and it was great to be connected with this incredible lineage. I also fell in love with Mel Lewis' drumming, and after Joe introduced me to him, I would follow him around all the time.
TS: So what would you say have been the greatest inspiration for you?
DG: Really a combination of Mr. Geist's music environement at school, the lessons with Joe, and following Mel around. I also heard a live concert the great Harold Jones with Count Basie, and that changed my life! The Thad Jones-Lewis band at the Vanguard. That was another major inspiration. I was also listening to current rock groups, Hendrix, Beatles, Cream, Led Zepplin, and while jazz was still the major force in my life, I enjoyed a pretty wide range of music.
TS: What was your first big career move?
DG: First, and best was going to the University of Miami. There was a professional attitude in place, and also a chance to work as a professional in the Miami area, while being a student. Both the teachers and students would interact on gigs, and that made for a great learning and professional environment. I also met so many people that I play with even today; Pat Metheny, Mark Egan, Cliff Carter, Gil Goldstein, etc. As we all started to work professionally, our circle of friends expanded, and it led to a professional careers for all of us.
TS: How did that affect your personal life?
DG: My personal life became my professional life. I started traveling full time in 1975, and it's been quite a bit of traveling ever since. Relationships have been hard – I am now married to Beth, another drummer/percussionist, so it's a LITTLE easier!
TS: When somebody calls you and asks if you wanna play with them, how do you then decide if you actually want to do it or not?
DG: The music is usually the motivation for me. If it's someone I don't know, I ask for a tape or cd, and then decide. The other factor is how much time is involved with the travel. I always have a million things going on, and it's hard to stay away from home too long. The last thing is financial. Sometimes that is unimportant, other times very important.
TS: You recently did a clinic for us in Odense. At that clinic you amazed us with your fantastic technique. How do you continue to develop your skills at the level you're at?
DG: The Morello / Stone method provides for a lifetime of exercises that are really fun to work on. I will be working on them forever! And the techinque just continues to improve, the more time you work on it.
TS: But how do you continue to find the motivation that is needed to sit down, concentrate, and practice?
DG: I don't practice everyday, but I do think about music everyday. I just want to keep improving and refining my playing.
TS: Don't you ever feel that you have reached the point were it's "about it" – were you can't get any better?
DG: It feels like a big adventure where new, great things can develop anytime. It stills feels like I am just starting to develop.
TS: Speaking of practice and developement – if you had to give only ONE good advice on that issue, what you it be?
DG: My first thought would be to get a good, inspiring teaching that provides you with motivation and gives you things to work on the really help. Then you will want to practice and get better. As far as the practice itself, it's like sports – you have to work on it consistantly.
TS: What does it take to become a successful professional drummer in your opinion?
DG: 1) A good technical foundation; 2) Understanding of how the drums work; 3) Co-ordination to execute the basic drum functions; 4) Analysis of basic styles, and the ability to play them; 5) Understanding how to read and interpret drum music; 6) Advanced analysis of drummers and styles, co-ordination and advannced exercises; 8) Lots of performance experience; 9) Understanding of musicians and the music business.
TS: Speaking of professionalism – what is more important; skills or personality?
DG: The music I play, personality is very important, as the beauty is in being an individual. However, you have to have the skills to execute your ideas. So to me both are important and parts of the bigger picture.
TS: I have noticed that you have some really colorful drumsticks – what is the story behind those?
DG: They are made by the HOTSTICKS company, near New Orleans. I have been using them since 1983. They make an amazing new style of sticks called Macrolus, but I prefer the balance of their old 2B Hot Stick. I use them until they fall apart. The balance is just perfect for the way I play- big stick, big taper.
TS: I know that you are endorsed by Basix Drums, but you have been playing Taye drums while you where in Denmark, how do you like them?
DG: I thought the Taye drums were amazing – great sound, great hardware. I got a fantastic sound from them, found the hardware some of the best I've ever seen, and really loved playing them.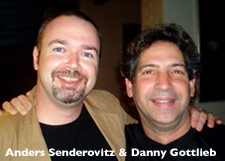 TS: You've been to Denmark several times now – how did that all start?
DG: I have been coming to Denmark since 1976. I played at Monmartre, and Århus with Gary Burton in 1976, Metheny in 1977,78, 79, 80, 81, Tivoli with John Mclaughlin, Jazz House with Lew Soloff, Joe Beck, many others. But my recent trips were all because of Bo Steif, Paul Falk, and the amazing pianist Christoffer Møller. We have just played at the Jazz House, and the Copenhagen festival with Palle Mikkelborg. I also taught at the jazz camp this past summer, and was featured with the Tip Toe Big Band last year. I look forward to MANY more trips to Denmark!
TS: How do you like to play with danish musicians?
DG: I love playing with great musicians and there are so many in Denmark! Bo, Christoffer, Palle, Hans Ulrik, Chano, Anders, Jesper Riis, Lars – how can you go wrong!
TS: Did you know that you are listed at trommeslageren.dk's biography section of all time greatest drummers? 😉
DG: Wow – that's an honor!!! I am just happy people seem to like what I am doing!
TS: Danny – thanks a million for participating!
DG: Good luck to all!